Our wainscoting project is done! As Mater would say, D-U-N done! Marc really tore it up on this project. It is very comforting to know that if the whole testing missiles thing does not work out, he will be able to make a living as a painter. He is really good at it. And I did touch up! I promise that I was not being a total lazabout, I kept the kids out of his hair Saturday night by taking them to the local botanical garden Halloween party, something that I will never ever ever do again. And Sunday, I repainted an upstairs wall that was the scene of a spectacular recent decorating FAIL. To be honest, after UT losing to Bama in the last four seconds of the game Saturday night, I am glad that I WASN'T here!
I am so happy with the finished product, that I am entering it in Metamorphosis Monday! Click on the link to see other Before and After entries:
During construction:
When we moved in: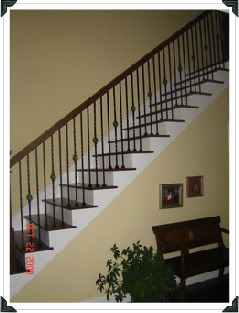 Trim Only:
Big Reveal!
Plain (after the trim, before the paint):
Wow!
Scuffed up (I don't have any photos of the plain staircase wall, unfortunately):
Shiny:
Mr. Painter hard at work: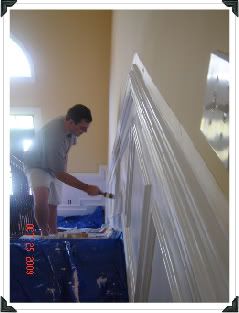 While we are talking trim, I am going to let you in on a trim secret. Do you want elaborate crown, but are working with a tight budget? Our builder in Tullahoma put a piece of crown flush to the ceiling and then about 3-4 inches below, put another thin piece of trim. The painters painted all three sections, the crown, wall, and trim white and gave it the appearance of double crown molding, but not the cost! Just wanted to share!
Thanks to Between Naps on the Porch for hosting Met Monday! To check out her very interesting and crafty blog, go here:
If you want to read about the beginning of the wainscoting project,
Go Here
.