I just bagged the last ornament about five minutes ago. A little back story: I found this cool idea for handmade crayon shapes over at
Beach Brights
. You basically break up crayons into a muffin pan, bake them, let them cool, and then pop them out. I thought that it would be neat to add some ribbon and hang them on a tree. Like Christy, I wanted to use a Christmas pan for the shapes, but when I went to Bed, Bath, and Beyond to buy the pan, they were already sold out! Oh noes! All they had left were dinosaurs, which Cooper liked better anyway. But we have been without an oven for a week- the clock went out and the appliance company cannot get another one until next week. So I delegated (or in government terms, I outsourced the project to a contractor: The Gramma.).
She and Cooper reported back yesterday with 12 intact dinosaur ornaments. She had the same problem as Christy and had a tough time removing the crayon wrappers. So, if you try this, you might ought to go with Crayola and bypass the Roses that we used, although they are much cheaper. They did have a problem with some of the heads and tails breaking off, so it might be easier to use pans with a more streamlined shape, like a heart, etc. They had a blast doing these and look how they turned out!
Fabulous!
Cooper was so proud:
My favorite: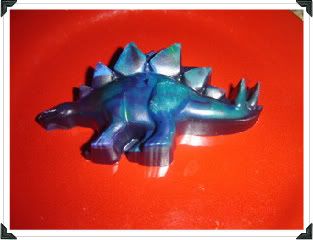 I used my hot glue gun to attach ribbon ($1 at Dollar General):
Each new ornament went into its own celophane bag. Cooper is giving them to all of his friends in the neighborhood. And then I put all of the ornaments into a family bag where I included a holiday card: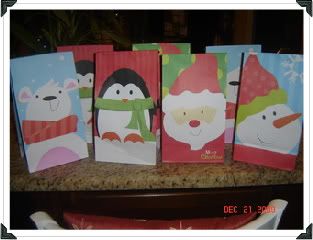 I think Gramma and Aunt Deena are hooked! They are already looking for more pans to make other shapes. A big thank you to them for helping us out in our time of oven need!
Specific Instructions:
1. Peel paper off crayons.
2. Break crayons into small pieces.
3. Spray cookie sheet/muffin tin with cooking spray.
4. Place broken crayon 3/4 full into cookie sheet spaces or muffin tins.
5. It looks better if you place red-orange-pink-yellow together and blue-green-purple together. Otherwise, the colors can run together and make brown.
6. Preheat oven to 350 and cook for about 8 minutes.
7. When they are 100% liquid, take out of the oven. Let them cool for a couple of minutes and then place in the freezer for faster cooling or not.
Blog Parties that Yoga Gal is participating in this week: