OK, I am finally done with my Christmas tree. There was a little drama, a lot of glitter, and a bit of tomfoolery, but it turned out pretty nice. And when Alexa walked onto the balcony, looked down, and said, "WOW!", it was all worth it. Of course she then said, "Halloween!"
When we were married, we bought the biggest, fattest Christmas tree we could find. We got it home and it took up half of our dining room (it looked a lot smaller in our cavernous Lowes). Not only was it huge, but it was one that you have to assemble limb by limb. And every row had a coordinating letter. It took us on average 9 hours to put up the tree every year. Finally, when Cooper was 2, I broke down and told Marc that I love decorating for Christmas, but assembling that gigantic tree was sucking out all of the joy. Marc really did like that tree, but when faced with his frazzled, surly wife, he did not object to my replacing it. (Fun Fact: We could not even sell that darn tree in a yard sale and ended up giving it away!)
Monster Tree, Circa 2003 (It dwarfs my poor angel- we used to have to move the table to get it in the dining room):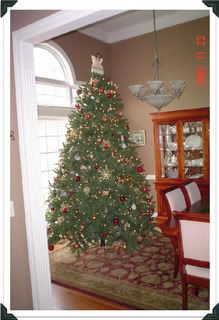 So I found a cute little skinny 7 footer. And since we had decorations for a much larger tree, we could pretty much cover Skinny Tree with ornaments. This year, I updated Skinny Tree (hence Skinny Tree's submission into the Blog Parties). Every year, we have done a red and gold tree. This year, since we are in our new home, I wanted to update the tree and blend it in with our decor, but not go too theme- y since it is the family tree.
I added a black and gold damask ribbon, wound around the tree: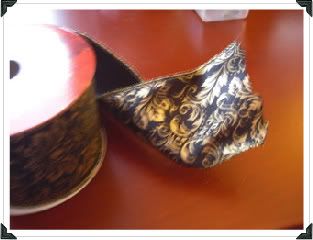 I took the ribbon and tucked it into the branches, crinkling it a bit so it blended. I did not want it to look like I had just draped it on the tree. Then I bought three boxes of black ornaments from Hobby Lobby, just to add some drama, as the decorators say. I was reading a Christmas mag the other day, and they interviewed a professional Christmas tree decorator (now THAT is a job!). He had plenty of tips, and the one that stuck out was that he separated his ornaments according to color, size, and style. That was right up my Type A alley. Cooper was my assistant, and we separated all of our ornaments into boxes (the apple does not fall far from the Type A tree, it seems). It was definitely needed, we ended up throwing away a garbage bag full or ornaments that were broken, faded, and stained.
By this time, Cooper had lost interest (apparently playing tennis ball with the neighbor is more fun that decorating a tree all afternoon). Having all of the balls separated really made the difference in deciding where the ornaments should be hung. Mr. Tree Decorator also said to hang the larger ornaments first, and then work your way down to the smaller ones. Another wise move. I also separated my non-ball ornaments into a box. These are a few of my favorites:
My Waterford ornament from our first anniversary:
Bloomingdales ornament from NYC:
And my letter ornaments (we each have one). I would love to say I made these, but nope, I confess- $2.50 at Pottery Barn: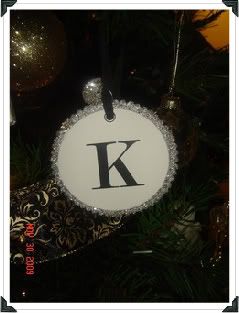 I was finally ready for my tree topper. I have used a hand me down angel from my mom every year since my first tree in 1996. But this year, I wanted to try something new. I kept seeing these different glitter sticks toppers on designer trees and I wanted to try that look myself. I bought gold, red, black, and one green (to match my bows) glitter stick doohickies (I really have no idea what they are called). It took a bit of arranging, but I think it works (Marc disagrees, you should have seen the look on his face when he saw it, but he is the epitome of traditional):
For a tree skirt, I just use a plain red quilted skirt since it is usually covered up. I chose red and white polka dot and black and white hounds tooth wrap (but tied green bows to keep with traditional Christmas colors):
So here it is!
Skinny Tree, 2009:
If anyone has any tips on how to take a non-blurry picture of a Christmas tree, I am all ears.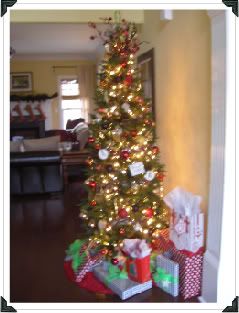 I think it is the perfect blend of trendy and traditional (or at least I hope so!). I know that the topper looks a little crazy but maybe it looks less crazy in person? Because it just seems to work on top of Skinny Tree.
This Week's Parties: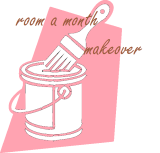 Thank you for stopping by and reading through that very long-winded story which pretty much could have been summed up by, "Hey, here is Yoga Gal's tree!". I do tend to go off on tangents sometimes. :) Please pop back in again!