Lord have mercy, did I take a two week break from blogging? I don't think that has ever happened. It has just been busy summer and my teeth have been giving me a lot of problems after having three crowns put in the week before last. The meds make me lethargic and groggy so I have not been putting much time in at the gym either. I finally gave in and made another appt. for today with the dentist to determine why this is dragging out and I am still popping Tylenol like candy. My liver wants me to get to the bottom of that mystery.
Reading:
Spotless, by Camilla Monk
Island Chaptal—nerdy IT engineer by day, romance novel junkie by night—just walked into her messy New York apartment to find Mr. Right waiting for her. No, wait…
Mr. Clean
.
A gentleman professional killer with a bad case of OCD and zero tolerance for unsorted laundry, March isn't there to kill her…yet. He wants the diamond her late mother stole for a sinister criminal organization. Island agrees to help him find it, facing the kind of adversaries who dismember first and ask questions later. Good thing she's got March to show her the ropes. And the guns. And the knives.
The buttoned-up Island is soon having a blast racing from Paris to Tokyo following the clues in her mother's will, and for the first time, she's ready to get close to someone. But falling for a hit man may be the very definition of loving dangerously.…
This was different in all good ways. It was funny, mysterious and suspenseful. And very well-written, especially for a debut. I usually don't read books with cliffhangers unless the next book is out, but the sample was just so good that I could not put it down. That being said, I am still anxiously waiting for the sequel which is scheduled for release in early 2016.
Watching:
Spy
. I am a total Melissa McCarthy fangirl so I am glad this is getting good reviews. And for some reason I have always thought that Jason Statham would be great in a comedy, so I am pleased to have that confirmed.
Cooking:
A lot of foods I cannot eat. I have not been able to eat much for the last couple of week due to dental work, but I still managed to gain three pounds. I guess that's what a chili and ice cream diet will do to you.
Wearing:
Nike workout shorts when I do get to the Y.
It is just too hot down here for pants and these are much more comfortable. Whether they look good depends on the state of the tan. Right now the tan is lacking and I need to look into a new self-tanner. Mine is just not cutting it. Suggestions would be greatly appreciated.
Doing:
Some planning -- our family has a lot of May/June birthdays so we are trying to get up a family get-together at our favorite restaurant on the lake back home. Not easy to coordinate when you have three different families coming from three different towns! I also am setting up Little some swimming lessons as she did not pass the swim test at camp. Her swimming skills still need work. There is always something on the To-Do list.
How about you, what do you have cooking this week? I promise that I will get our recent St. Louis vacation post up at some point in the future. We had a great time and I have been sifting through the hundreds of photos that The Engineer took. Don't worry, I will try to limit them to a top ten -- I won't make you look at endless zoo animal photos.
Happy Thursday!
Joining up with: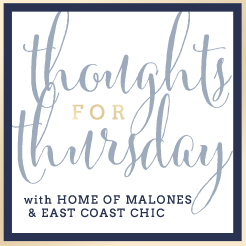 This post uses Amazon affiliate links. For more information on how they work and what compensation might be received, visit Amazon Associates Central.