We are currently gathering up our submissions for the yearly Alabama Press Association Awards, so I have spent the last couple of weeks pouring over photos and stories and have come to a surprising conclusion -- 2015 was a good year for me at the
Redstone Rocket
, writing-wise. I have a hard time even typing that as I am my own worst critic, but I had some cool assignments last year. So for the Friday Five, let's take a look back at 2015: behind the scenes of an Army newspaper.
5.
Reinvention key for park's entertainment venue
Photos by Bryan Bacon
This was fun because it was so different than what I normally do. It was my second time writing about Bridge Street for the Cummings Research Park special issue and I always enjoy walking around the center with the marketing director Van and hearing about the inner workings of one of the most popular retail centers in Alabama. That was always one of my favorite parts of working for a department store in my early twenties -- the nuts and bolts of it all.
4.
Working dogs sniff out dangerous devices
Photo by yours truly
I was more proud of my photography for this assignment than my writing, TBH. We were between photographers so I shot my own pictures with a new camera that I was still learning. They turned out pretty good, if I don't say so myself. Of course now we have a staff photographer whose work will knock your wig off but I think that I held down the fort.
3.
Historic bugle call traced to the Civil War battlefield

(sorry for the crappy copy/paste, I am having a technical snafu)
This was another story away from the norm because of the historical research. It was a great learning opportunity.
2.
Career hits crescendo with next movement
Photo by Bryan Bacon
Carlos was one of the first contacts that I made at the Rocket and he was always 110% helpful with anything I needed over the years. We had a great working relationship and he was just a really super guy (and fellow Tennessean, natch). I hope that he makes his way back to Redstone at some point.
1.
'I wear this for the other 16'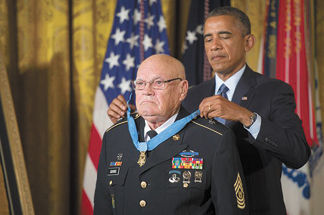 Photo by Staff Sgt. Bernardo Fuller
Hands down my best assignment of my writing career and a highlight of my career, overall. Meeting Mr. Adkins was an honor I will never forget.
When I look back at the stories that I have written in the last three years, I am amazed at the variety of topics that we cover. We might be an Army newspaper but I would like to think that we have something interesting for everyone. It has been quite the ride.
Happy weekend! It should be a beautiful one here in the Rocket City and I hope that it is for you too.