I grew up in the small Tennessee town of Winchester. If you want to get specific, we actually lived in an unincorporated part of Franklin County called Broadview but Winchester was our address. Franklin County is the home to the U.S. Air Force's Arnold Engineering Development Center (actually I think it might belong to the county next door but many residents work there, including The Engineer when I met him), the University of the South and Tims Ford Lake.
Both my parents worked on the square when I was growing up -- my dad's office was in the courthouse and my mother owned a corner gift shop. I spent many an hour walking to the local library and watching matinees at the Oldham Theater while my parents worked.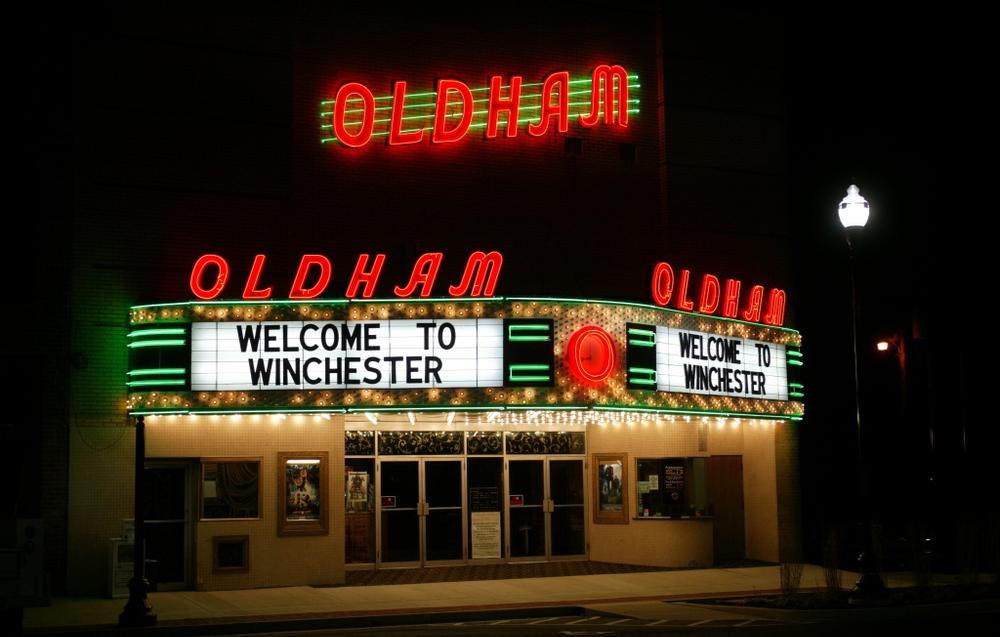 We were married in my family's church which was also on the square.
When I did not have a nose in a book, I was on the lake -- my dad either always had a boat or a house on the lake. That being said, I am a terrible skier. My parents were great skiers but I was always a bit of a hot mess. Jet skis were my jam.
One of my favorite restaurants -- the
Blue Gill Grill
on the lake.
The University of the South -- Dad had an office up here too. (Dad had offices everywhere.)
Growing up, I took for granted the idyllic vista of living in a town with both mountains and a lake. I did not understand how scenic my hometown was until I started traveling and realized that not everywhere is as beautiful as Franklin County.
Winchester's claim to fame is being the hometown to both Dinah Shore and former University of Tennessee coach Phillip Fulmer.
Here I am trying to not look like a spaz (and failing), because Phil Fulmer is sitting behind me at lunch. #GBO
Time has changed my hometown -- the high school where my parents, sister and I attended is gone. Even the Shoney's where I worked during school is a Mexican restaurant now. I went to college a week after graduating from high school and other than a six months stint at age 23, never moved back. But although I have been gone for 21 years, it will always be home.
Even though The Engineer and I both still consider ourselves Tennesseans (he grew up in West Tennessee) our children will call a different state home.
We moved to a suburb outside of Huntsville, Alabama, when Big Kid was five and Little was a baby. So this will be their hometown.
They are growing up so differently than we did. Huntsville boasts the Von Braun Center; a hockey team; art museum; several community orchestras; a ballet company; Redstone Arsenal, a Federal Center of Excellence which employs 41,000 people -- both of us included; and so much more. Redstone is also home to NASA's Marshall Space Flight Center.
Here I am giving a press conference to the cleaning crew (I was actually there for a media event about the Orion launch in 2014).
Our house is a stones throw from the U.S. Space & Rocket Center (home to Space Camp) and on the outskirts of Cummings Research Park, the second largest research park in the country and fourth in the world.
Huntsville also has the highest concentration of rocket scientists in the world and interestingly enough, the second highest number of spies in the U.S. behind Washington D.C. How they measured that, I haven't a clue. So it is a pretty cool place full of some of the brightest technological minds today.
I interviewed Huntsville Mayor Tommy Battle a couple of years ago for the newspaper and he called Huntsville, "the big little city." That description is apt -- we have so many amenities such as shopping, restaurants and activities but I still run into people that I know when I am out and about. It has been our home for the past seven years and I could definitely see us retiring here. It has kept its small-town charm, while expanding by leaps and bounds. It is a wonderful place to live and raise a family.
So those are our hometowns! Thanks for dropping in and happy Tuesday! Today is truly a beautiful sunny day in the Rocket City (why am I inside?) and I hope it is where you are too.